Looe Redwing dinghy Saga.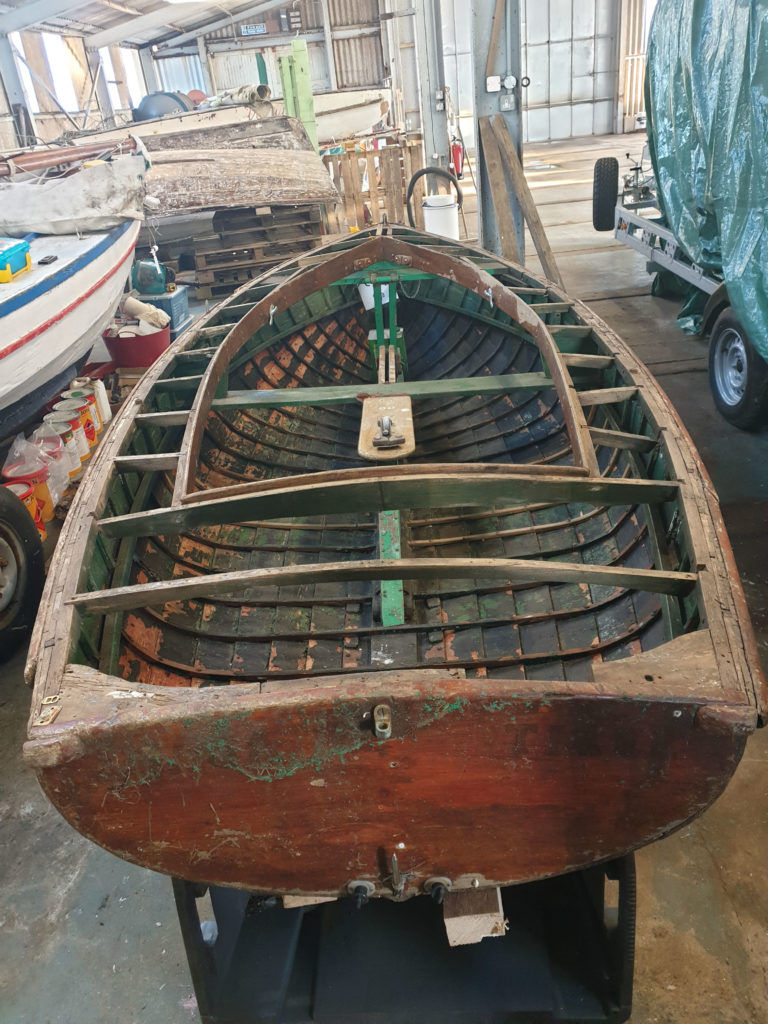 The Redwing is type of 14-foot dinghy designed by Uffa Fox in 1939 for Looe Sailing Club, based in south-east Cornwall.
It is a classic Fox hull with a clean run and a waterline stretched to the maximum, but with good freeboard, half-decked and with a substantial breakwater designed to cope with the rough and tumbling seas off the Cornish coast. It also had a 132lb iron drop keel (centreboard) with a 5ft draught, and sail area of 145sq ft.
Originally called the Looe Redwing, it was later renamed the West of England Redwing when the design became popular and was adopted as a national class by the RYA. (The class should not be confused with the Bembridge Redwing, designed in 1896 for sailing in the Solent, which is a much larger keeled boat.)
Saga was built by Billy Clouston at Waithe Haven, Stenness in Orkney, in 1949. She was built for a keen local sailor, Willie Groat, who is well-known for being the banker onboard the National Commercial Bank (later the Royal Bank of Scotland) bank boat called Otter Bank, which served the northern Orkney islands as a mobile bank in the 1960s.
While Willie achieved significant success sailing in local regattas with Saga, it never took on as a local sailing class.
Saga was gifted to the care of OHBS by the Groat/Dowell family, direct descendants of Willie. Having been out of the water for some time now, and stored outside, she is in need of some TLC, particularly around the gunwales and decking, but will be a very welcome addition to our growing boat collection.
Mid 2021

October 2021

November 2021

January/February 2022

March-December 2022